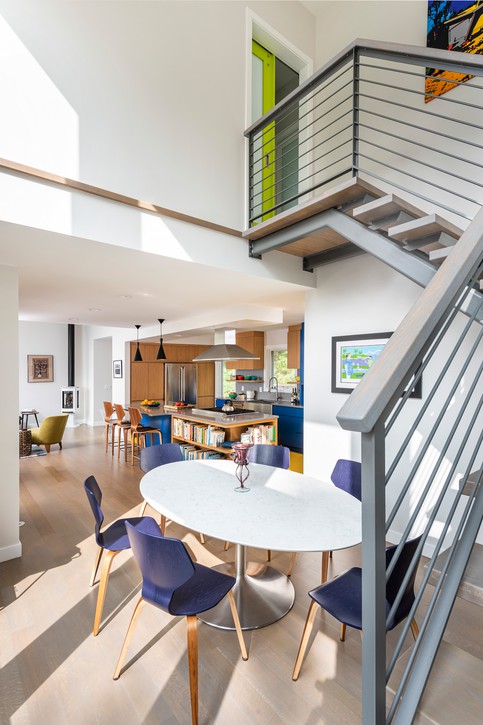 It began with an introduction at a gallery opening in Ptown. Former clients had good friends who owned a tiny summer cottage in Truro, with intentions of building a new home on the same site for year round occupancy; something modestly scaled and attentive to the unique challenges of a site in a hollow, surrounded by national seashore land. The program was unique to the typical cape home: 2 bedrooms, with the first-floor setup capable of accommodating aging-in-place for one of the client's parents, and also for themselves, many years down the road. A screened porch, steel open stair, and a comfortable working kitchen were on the needs list from day one. As with all our designs, creating spaces that feel large while keeping the overall square footage as low as possible was also of utmost importance. The home clocks in at just over 1700SF.
Although the site seemed sufficient, a steep slope coupled with existing structures, setbacks, and septic, made for a very tight set of parameters for building placement. In using the grade to our advantage, the dining space and guest wing are anchored into the hillside to the south while the living space hovers above the ground to the north. With all but the master suite on ground level, the program allowed for playful building shapes and connections; Gentle metal roofs slope to open the spaces within, allowing light and a variation of open and compressed volumes.
The kitchen and screened porch became the heart of the home, with spaces radiating from that central point. The two-story dining space incorporates the desired celebratory stair and allows southern light from the second level to permeate into the building. Outdoor connection spaces are plentiful, with west facing deck, patio, and master suite balcony, in addition to the west facing breakfast patio off the first floor office/bedroom.